BLITZ MOTORCYCLES + LUCAS DE STAËL
Blitz Motorcycles is a Paris-based custom garage founded by Fred Jourden and Hugo Jezegabel in 2010. Together, they conceive and customize motorcycles to create unique, one-of-a-kind
machines. Sharing the same love for nature and craftsmanship, we collaborated on a special sunglass serie, resulting in pilot spectacles covering a large part of the face, fit for outdoors wild rides.
CHRISTINE PHUNG + LUCAS DE STAEL
We collaborated with award winning fashion designer Christine Phung, creative director of the house Léonard since 2016. Directly inspired by the digital arts, she creates a wardrobe between strict elegance and luxury sportwear. Christine Phung and Lucas de Staël have united their talents to conceive a unique spectacle. Those sunglasses combine both of their creative universe linking an emblematic geometric pattern with the use of high end skins like iguana and genuine cow leather. Based on Christine's graphical researches, the Norvegian cow leather and iguana are cut and pasted together in order to create a dynamic pattern on the external part of the spectacle.
INKED BY EASY SACHA
We collaborated with Paris based tattoo artist Easy Sacha to present you our first ever tattooed frame, inked on genuine Norwegian cow leather. Follow the dragon all over the frame delivered in a special box with a unique artwork of the artist.
Limited edition / 16 pieces.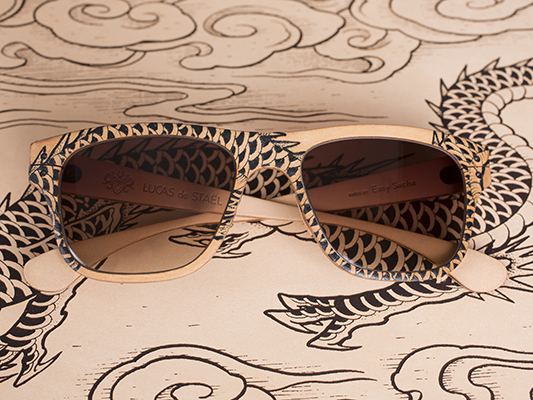 MINOTAURE Print Easy Sacha
A second ingraved version is now available.